Custom-made machine construction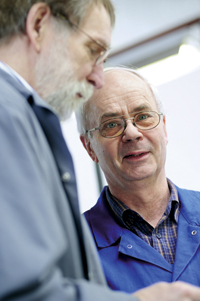 Targeted project planning, detailed planning, the production of individual parts and structural components in small or large quantities. Arnskötter manufactures according to your requirements and guarantees you the newest ways of production monitoring through high quality measuring and testing technology. Products are additionally tested in our internal quality assurance department before they are forwarded!
Varied possibilities
The integrated machine construction department at Arnskötter looks back on many years of experience in the area of machine processing and repairs. Arnskötter manufactures machine parts, individual parts and structural components according to your sketches or designs. We are in close contact with our CNC technology department in terms of series parts in order to also convince you of our flexibility in this area. Arnskötter will gladly carry out repairs of machines from other manufacturing companies in an area of 50 km for you. Moreover, Arnskötter is a competent supplier in the area of machine construction and offers you an extended workbench".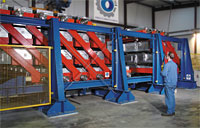 Special machines of our own development
Material store
Our material store consists of a stair-like construction which slides into itself and which allows large storage levels to be use in an optimal way. It also stores bar material in a generous way so it can be accessed quickly.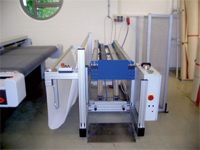 Swivelling roll-off unit
The swivelling roll-off unit developed by us has the task of equally rolling up the materials/towels or similar products from a horizontal position and delivering them to another processing station.
We also construct and manufacture special machines for you – according to your requirements and expectations.